General information
Recreation center «Nevido» is located in the Polotsk district of the Vitebsk region, surrounded by a picturesque mixed forest. Near the base is a spruce grove, in which blueberries, lingonberries, as well as various types of mushrooms grow in abundance. To accommodate the guests are available summer houses of varying degrees of capacity. Each house is equipped with a common room in which there is a refrigerator.
On the territory of the recreation center «Nevido» there is a Russian bath, several spacious gazebos and barbecue grounds. There is a sports ground for playing football or volleyball, there is a boat rental service. Fans of fishing can relax with a fishing rod on the shore of one of the many lakes that are nearby.
Reservoirs
Recreation center «Nevido» is located at the distance of 30 meters from lake Nevido with the area of 1.09 êm². 200 meters away from the recreation center there is lake Belenok, 1,5 km — lake Lesovo, 5 km — Lakes Neseto and Babynichskoe.
Foundation year - 1972
Year of reconstruction - 2011
The quantity of rooms - 70 beds. 10 more people can be provided with accomodation
Checkout time

Check-in at: 13:00
check-out at: 12:00
for every 24h

Children are accepted to live any age
Occupied territory - 1.00 he.
Territory security: territory is fenced, guarded by the health resort guard service
recreation center Nevido is situated at the distance of: city Polotsk - 34km ,city Vitebsk - 137km ,city Minsk - 198km
Geographical coordinates - 55°18.679' N, 28°24.336' E
Schedule of administrative and rescue services
administration: 08:00 - 22:00, every day (living building À)
reception desk: 00:00 - 22:00, every day (living building À)
The period of operation Nevido
| Jan | Feb | Mar | Apr | May | Jun | Jul | Aug | Sep | Oct | Nov | Dec |
| --- | --- | --- | --- | --- | --- | --- | --- | --- | --- | --- | --- |
| | | | | | | | | | | | |
Location - recreation center Nevido: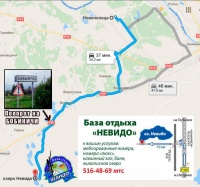 Meals
Kitchen facilities
kettle
refrigerator
tableware
elektrocooker
Equipment for food preparation by the tourists